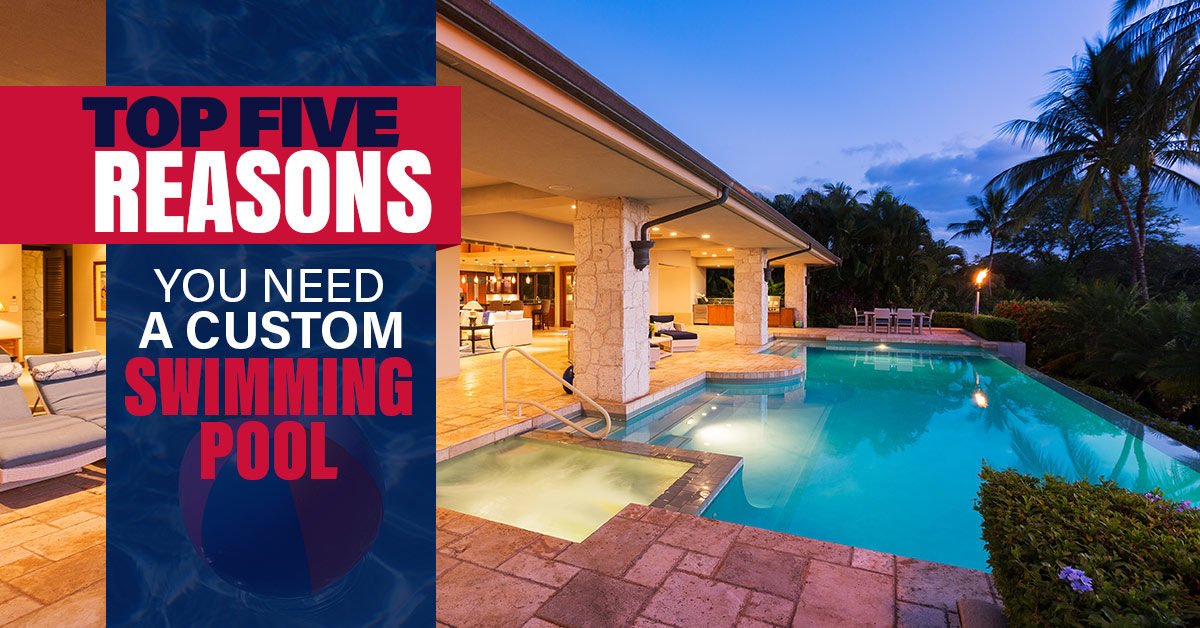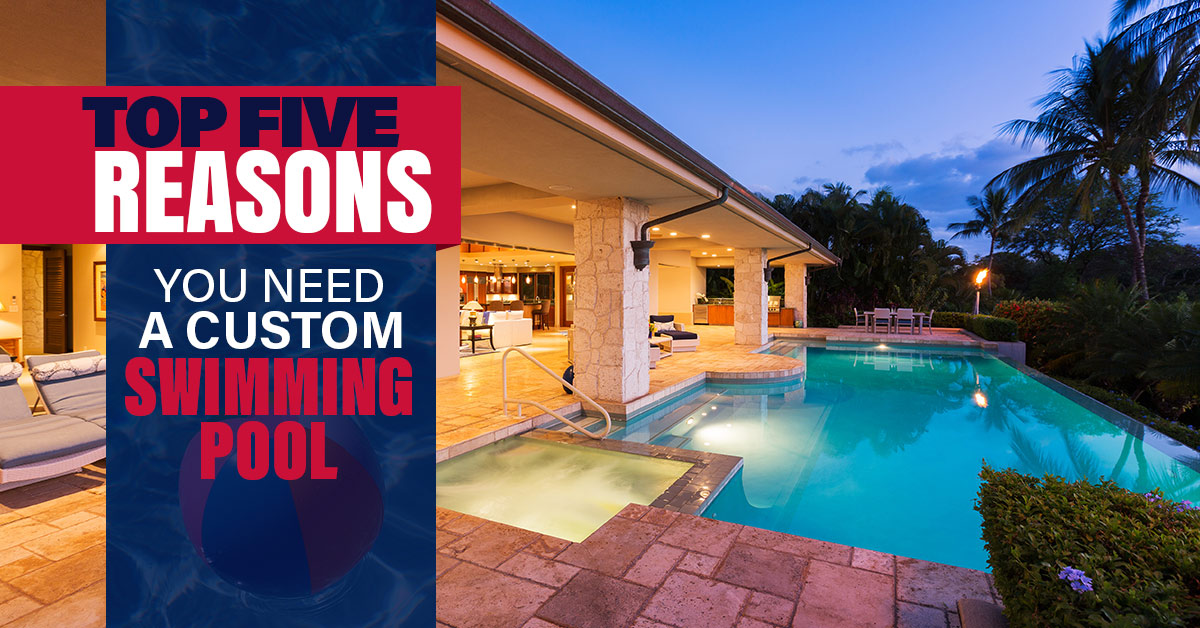 TOP 5 REASONS YOU NEED A CUSTOM SWIMMING POOL
NO BAD REASONS WHY
The reasons our clients want custom swimming pools are as unique as the clients themselves. For some, a swimming pool in the backyard means a tropical escape from the city, while for others it's a relaxing place to entertain friends and family or hosting neighborhood events. Whatever our clients' reasons for choosing Texas Pool Champions for their custom swimming pools, we have the experience, know-how, and client-focused mentality to deliver a final product that exceeds their dreams. From custom pool designto the physical construction of those designs, the Champions are dedicated to turning your dream into a reality. Curious about the top reasons clients give us for relying on the Champions for their custom swimming pools? Take a peek below for the top five reasons you need a custom swimming pool from Texas Pool Champions.
Click Here To Start Your Custom Swimming Pool Project Today
REASON #5: IT'S FLAT OUT FUN
This is may seem a bit obvious, but no matter your age, we're willing to bet that you'll find your fully-custom swimming pool to be an absolute blast. And how could you not? When you take part in designing your own pool and then plan it with Texas Pool Champions' Dream Team of designers, the pool isn't just some run-of-the-mill pool design you'd find anywhere. Rather, it's a part of you that comes to life with the help of the Champions' 35-plus years in the luxury outdoor living area and custom swimming pool business. When you're part of the design process, the pool becomes more than just a fun escape to your backyard oasis; it becomes part of your home and says a lot about your personality and lifestyle. And who couldn't use a little more fun in their life?
REASON #4: STAY FIT
This may not be your number-one goal for having the Champions work their custom pool design and construction magic in your backyard, but it's an inevitable byproduct of regularly using your pool. And, given that the Texas heat doesn't relent until well into fall, having a pool around is never a bad idea for burning off some of those BBQ calories you're sure to ingest with all of the outdoor entertaining you'll be doing once your custom pool is finished. Even just taking a few dives and swimming a few laps can work wonders to expel excess calories. Besides, using your swimming pool surely won't feel like "working out;" instead, you'll likely look forward to those laps after a long day at work or spending the day outside, keeping your outdoor living area kempt. After just a little while in the Texas summer sun, a few laps (after some well-deserved floating and splashing around, of course) are sure to feel like welcomed relief from the relentless heat.
REASON #3: FAMILY TIME
Not all pools need to be fit for adult swim time all the time. If you have kids, grandkids, or your friends' and their kids frequent your home, you've likely run into a situation that begins with two little words: 'I'm bored.' When kids are brimming with energy, there are few better ways for getting that energy out than jumping into a pool, swimming and splashing about, and repeating until the sun has sunk and grill is hot. Whether or not you choose to take a dip with the kids, sitting around the pool with the family is a great way to squeeze in some family bonding time. And at a time when we're all glued to our phones, tablets, and other screens, even just a little bit of time spent together works wonders for keeping the family togetherness strong.
REASON #2: INCREASE YOUR HOME's VALUE
This is a big one for a lot of our clients. Adding a pool to your home (especially in a state that gets as hot as Texas) is sure to increase your home's value, not only making installing a pool a beautiful way to utilize your backyard, but also a smart investment. Think about it: if you were looking for a home in Texas and had the option of purchasing a home with a pool and purchasing a home without, which would you choose? We know which answer we can many of our clients would choose — the one with the pool, of course! And, should you decide to sell your home several years down the road, homebuyers' mindsets are not likely to change; pools have long been an desirable feature for homeowners, and that doesn't seem to be going anywhere anytime soon.
Click Here To Check Out Our Custom Pool Design Process
REASON #1: HIGHER STANDARD OF LIVING
While some might say this is a stretch, we strongly argue that adding a pool improves the way we live our lives and the joy we get out of entertaining friends and family. Humans are inherently social creatures. Even introverts enjoy time with close friends, albeit in small or limited doses. When we're more engaged with our friends, family, and neighbors, we're more likely to enjoy our lives and to engage with our communities and those with whom we're close. We're not suggesting that simply adding a pool to your home will make you instantly happier, but if you utilize your custom swimming pool and outdoor living area for hosting events, spending time with the family, or simply kicking back and relaxing, then your pool is sure to contribute to a better quality of life. Consider this: if your pool and outdoor living area have the capacity to host events and you choose to do so, your pool becomes more than a pool; it becomes a social gathering spot that offers entertainment, relaxation, and a familiar place for spending time with those closest to us. Truly, installing custom swimming pools does more than simply add elegance, beauty, and originality to our homes and lives.
CHOOSE THE CHAMPIONS
While we've listed our top five reasons for choosing custom pool design and installation, we're sure you have your own list of reasons for choosing to add a brand new swimming pool to your home. And we'd love to hear those reasons! When you choose the Champions for your pool construction needs, you'll receive unrivaled client-focused dedication from start to finish. From our initial conversation, we'll spend more time listening rather than talking to get the best understanding of your dream pool possible. Once our Dream Team of pool designers makes their sketches and you approve, it's off to the races, and your brand new, fully-custom swimming pool is but a few weeks away. Ready to get started? Give us a call today to begin your custom swimming pool design and construction today. As always: choose quality. Choose the Champions!