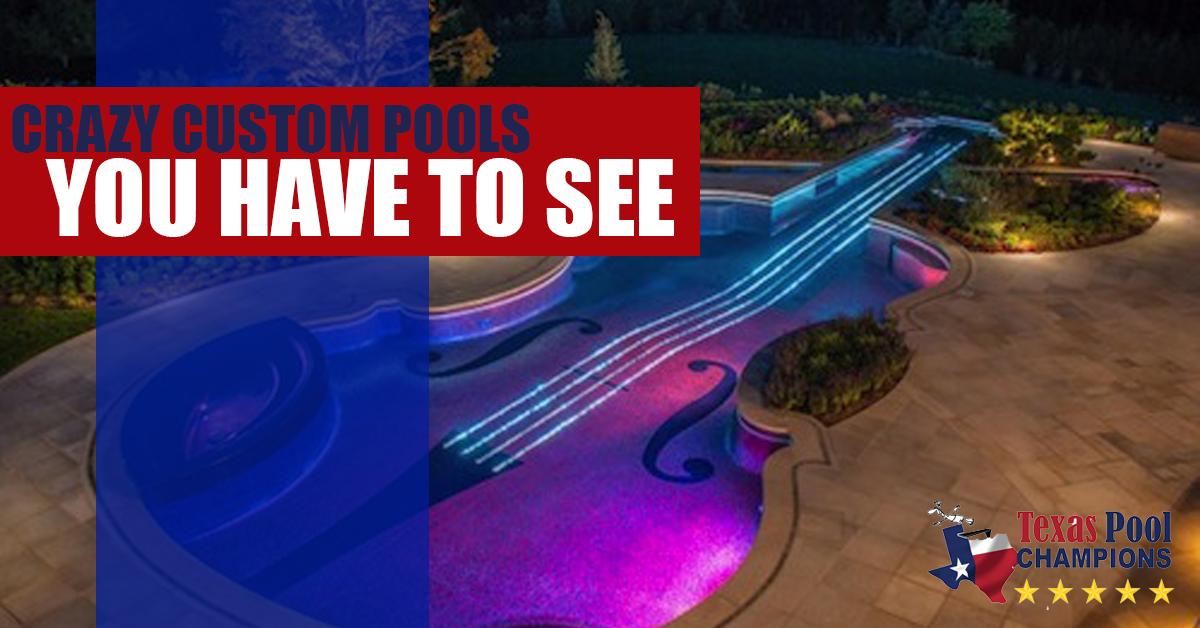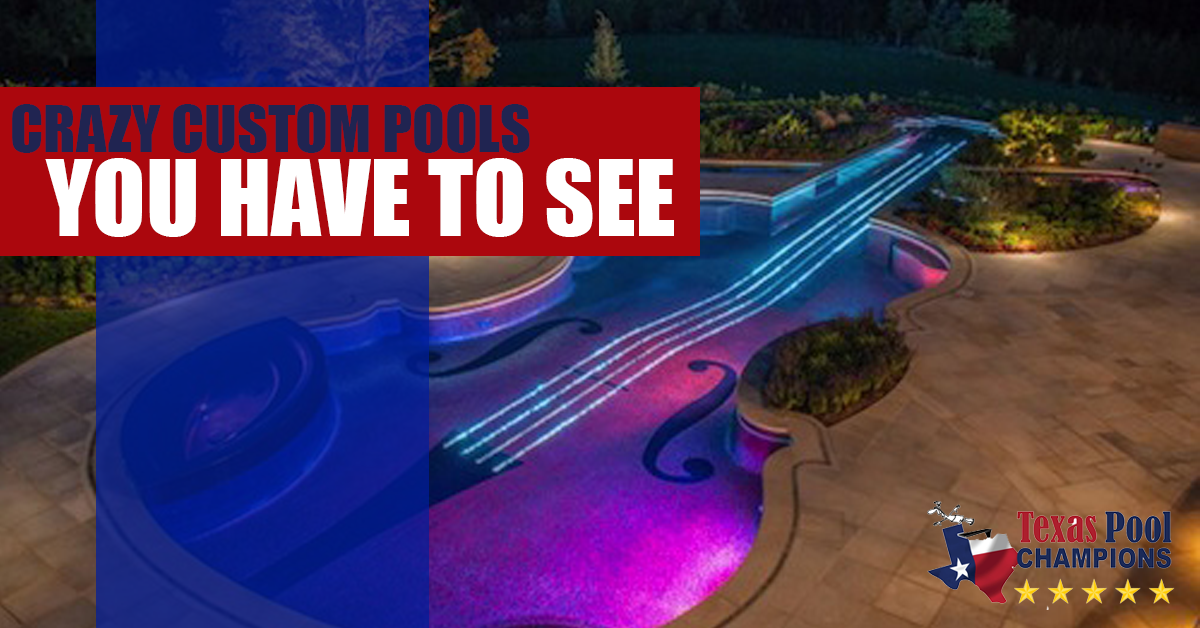 Crazy Custom Pools You Have To See Right Now 
Thinking of starting your own custom pool in Houston, TX this fall? Look over these custom pools designed to inspire your imagination. Or ignite curiousity as to why someone would put such a CRAZY pool on their property! Also, we'd love to hear in the comments if you've swam in or considered building any of the following pool designs. 
1. Want a Buffalo shaped pool?
Pop quiz. How many Buffalo shaped pools do you think there are in the world? Well, there's at least two that we know of. At Buffalo Bill's Casino and Resort in Las Vegas, NV has a water buffalo that you can swim in. The hooves provide 4 convenient stairs to walk-into the pool or just hop on in via the buffalo horn!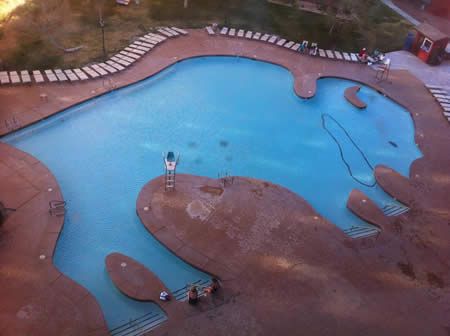 The other buffalo-shaped pool was finished in 2014 at the University of Colorado's new recreational center! Designers wanted to capture the university's mascot, a charging buffalo, in swimming pool glory.  The 4-foot deep pool is not only cool looking, it also has some key functionality for the recreational center as a whole. As the ice rink within the center is chilled, the heat is pumped to warm the pool. In addition to closing the heat loop for the ice rink, this pool features "a basketball hoop, volleyball net and a sunbathing area in shallow water."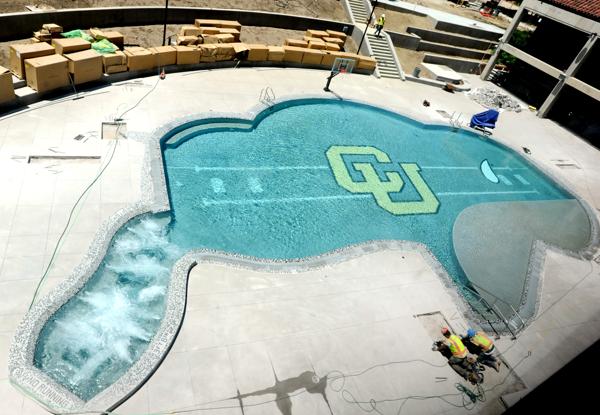 2. Dive into these Musical Instruments
Frank Sinatra knew how to live the high life with his very own custom backyard pool, that was shaped like a fully keyed piano. At his Palm Springs home, guests could lounge around the keys or dive into the the frame of the piano. Modern day guests who rent the property can do the same, or they could recreate the iconic scene from Tom Hank's BIG.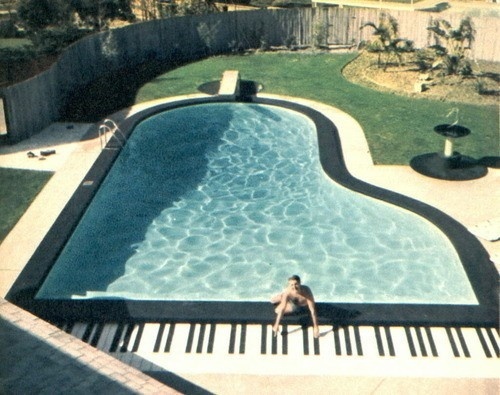 Nashville and Las Vegas both boast a guitar-shaped pools built by country stars. Despite seeming odd, this guitar design is actually quite popular due to its soft curves and length for laps.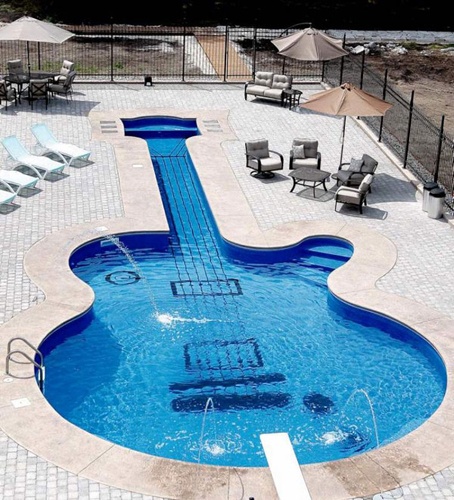 For over $1 Million dollars, a Goldman Sachs executive has built himself a Stradivarius-shaped pool. This pool touts koi ponds, hot tubs, luxurious lights, glitter finish, and, of course, landscaping to die for. While custom pools don't have to cost 1 Million dollars, they can be close to this luxurious when you have one to yourself.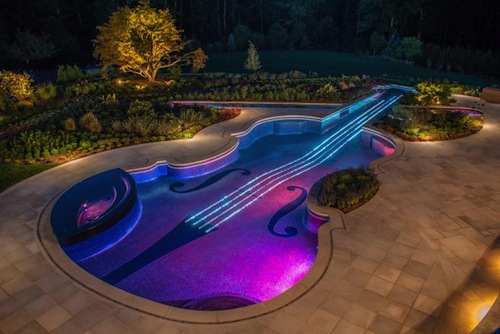 3. Doggy paddle in these Pet-Shaped Pools
Some pet owners like to get their paws wet in a literal paw. The black patterns on the floor of the pool allow for extra traction while paddling around during the dog days of summer. This shape would also work well for a shallow wading pool or spa.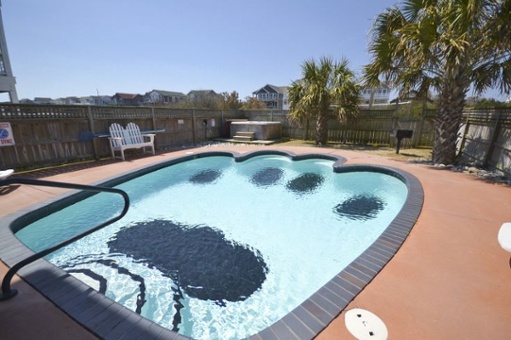 For pet owners without furry companions, a pool dedicated to their goldfish would work just as well. You and your family can swim like fishies in your fish-shaped dream pool. Gills and all.
If you are considering a fish-shaped pool, we would suggest using smooth fish scale mosaic on the bottom of the pool with a koi pond nearby. We don't suggest trying to swim with your pet fish in your fish pool.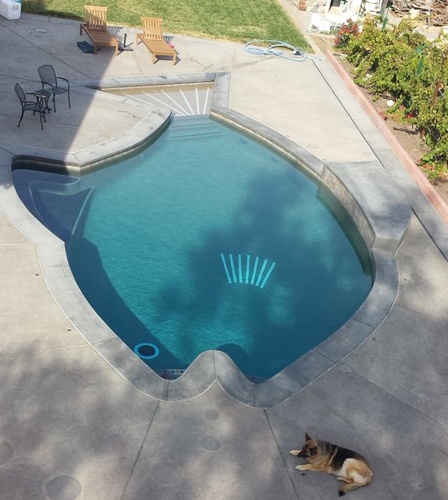 This pool is the cat's meow. Ok, that was bad even for us. This pool was photographed in the 1950s and was inspired by the Art Decor cuckoo clock shaped like a cat. These would be even better if the cat eyes could move back and forth. No word if this kitty shaped pool still exists. But bless its heart for being built in the first place.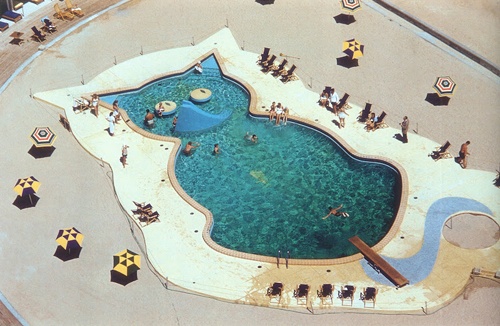 While some call it a butterfly others think its a stingray, either way its an unusual custom pool. The use of stairs into the pool and up the bridge give the design a grander feel while the design on the bottom of the pool makes the pool itself seem larger.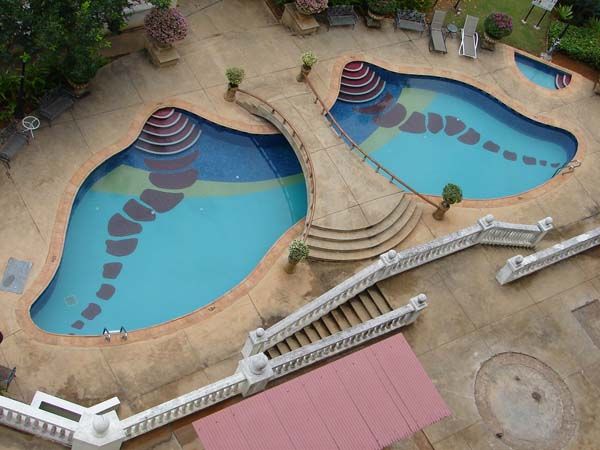 How about instead of a pool dedicated to your pet, you build a custom swimming pool FOR your pet (and their friends). Dog bone shaped chilling pools are quite popular for pet parents with outdoor dogs. However, few are as lux as this one. Extra strong filtration system would be a must as would deodorizing spray.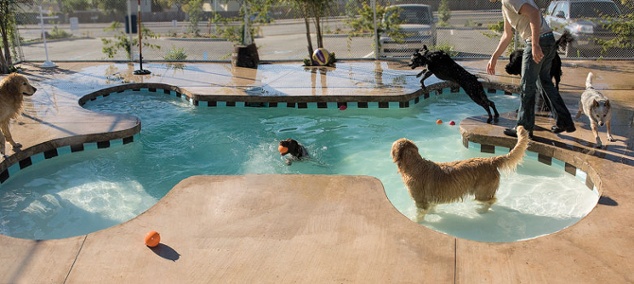 4. Hobbies Turned into Pool Obsessions
Are you into comic books, superheros, a particular sports team, video games, or something else branded? Consider using the shape of your pool, the decor, or the bottom of the pool to show your passion for this thing! This pool owner probably has his or her own batcave in their basement too. In Illionis, this home comes with the bat pool and a $2.7 Million price tag.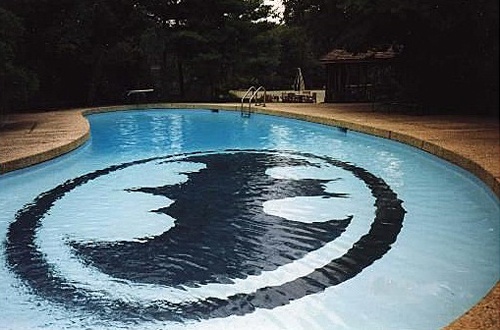 Like to swim and paint? This pool is for you! The color tiles are an amazing touch!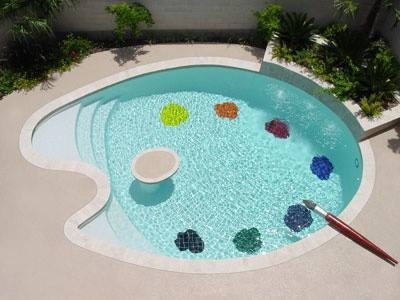 What Disney fan wouldn't want to enjoy their summer days and nights hanging out in their Mickey Mouse spa? Disney swimsuit, Disney floatie, and Disney music = good to go!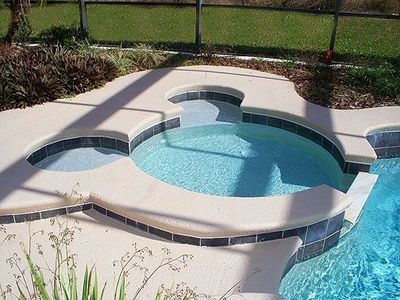 5. Other crazy shapes to make your backyard stand out
Am I the only one who wants to swim barefoot in the barefoot pool? Or hop into it feet first? So many good foot puns with this one…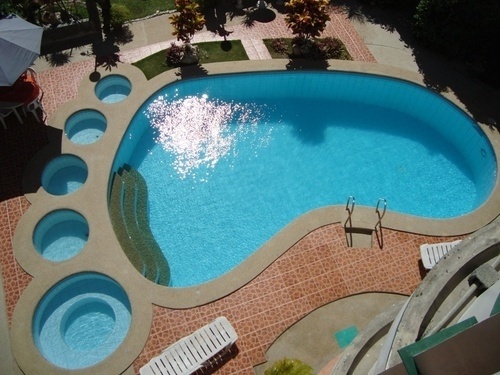 In Florida, you can rent the "Sweet Escape Mansion" for you and your best 51 friends. The ice cream portion is a wading pool with jets and the cone has an easy-to-use staircase. Or even better, you could create a "Sweet Escape" in your own backyard with your very own custom pool.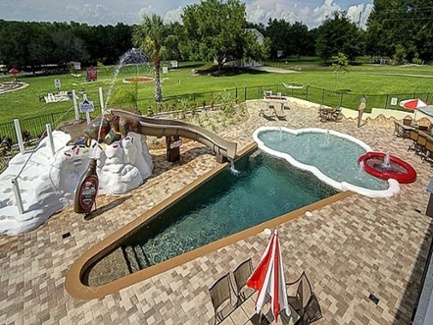 Heart-shaped pools are another classic pool shape beside the kidney and L-shape. Many of the Hollywood elite have these and you can too.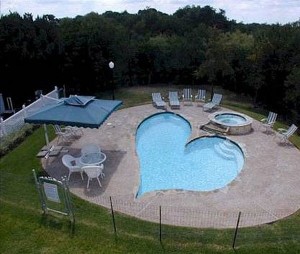 Looking for your own custom pool in Houston, TX? Contact us today to get a free consultation!